Thank you for your interest in volunteering at the Capital City Film Festival! Volunteers are a crucial part to the success of CCFF. Volunteers are the face of the festival and will often be the first (and sometimes only) person to interact with patrons. You are so important! Outlined below are volunteer job descriptions as well as other important FAQ information that will assist you in being a CCFF rockstar.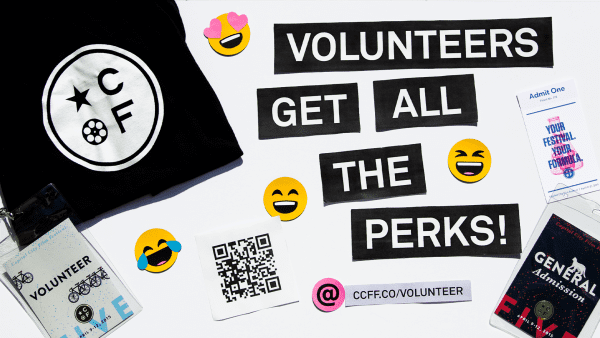 WHERE CAN I SIGN UP TO VOLUNTEER?
Click below to sign up for a volunteer shift at the 2022 Capital City Film Festival, April 7-16!
VOLUNTEER NOW

CAN I VOLUNTEER WITH A GROUP?
Absolutely! Let's chat more. Email Volunteer Coordinator Jessica Bibbee at volunteers@capitalcityfilmfest.com.
WHAT DO I GET FOR VOLUNTEERING?
In addition to our gratitude, you'll get a cool t-shirt ($15 value) and a FREE all-access pass ($50 value) that gets you into all CCFF events. You heard that right: volunteering = free festival pass. (Whoa! What a deal.) You'll also get a snack and drink on us.
WHAT KIND OF WORK IS AVAILABLE DURING THE FESTIVAL?
Exact assignments will be given upon arrival at the venue at the start of your shift.
Ticketing & Pass Check-In: Volunteers will sell passes and individual movie tickets to people who come in the door. Volunteers will also check in those who have pre-purchased tickets and passes.
Information Table: Volunteers will be seated at the main entrance and will be the first to greet patrons. Some responsibilities will include advising festival-goers about the schedule, answering questions about the festival, selling merchandise, and offering other information as requested.
Ushers: Some festival events will require ushers to help seat patrons. Ushers may also provide general festival information.
Line Management/Crowd Control: Volunteers will work in the venue lobbies to manage any lines that may form and help people with any questions.
Setup & Teardown Champions: Volunteers will help with the setup and the cleanup of venues, getting them ready for the next event. This involves a range of duties including carrying boxes, tidying up tables and chairs, etc. Some of these shifts may be later in the night.
Concessions: Volunteers will bring smiles to faces with concession offerings! Some responsibilities may include sales of food and beverage, cleanup/setup, taking inventory, and smelling popcorn. Be prepared for more standing than sitting. (Please note that alcoholic beverages will be available to attendees at most festival events).
Rentals & Inventory: Volunteers will help manage, order, organize and transport stock to venues. This may include promotional materials (advertising, banners, etc.), managing concessions (food, drink), venue kits (materials used by shift volunteers), venue equipment rentals, etc. These efforts will not interface with the public and will require organizational skills, attention to details, and independent thinking.
If you have other ideas on how to contribute to the success of this year's festival, reach out to CCFF Volunteer Coordinator Jessica at volunteers@capitalcityfilmfest.com.
DO I NEED TO BE A CERTAIN AGE TO VOLUNTEER?
Yes. You must be 16 years of age or older to volunteer. Volunteers under 18 must be accompanied by a parent or guardian, and job options may be limited.
WHAT SHOULD I WEAR?
Wear comfortable, presentable clothing. Khaki shorts, pants, skirts, jeans with no holes, and capris are perfectly acceptable apparel for the event. You are not required to wear the free CCFF t-shirt that we give you. You will wear a lanyard during your shift that designates you as a volunteer. Keep in mind that you may be on your feet during your shift, so make sure you select shoes that are comfortable.
WHAT SHOULD I BRING WITH ME?
You may bring your own water, juice, or other non-alcoholic beverages with you, or most venues will have concession items for sale. If you sign up for a longer shift, consider bringing a packed lunch, etc. We cannot guarantee a secure area for you to store personal belongings, so do not bring any valuables or large or bulky items. You should plan to bring only what you can fit in your pockets and/or a small bag. Cell phones and electronic devices must be turned off or silenced during film screenings.
PLEASE REMEMBER!
The festival's success depends on volunteers! To be courteous to other volunteers, we ask that you arrive ON TIME for your shift(s). If you can't make it to your committed shift for any reason, please email Volunteer Coordinator Jessica as soon as possible at volunteers@capitalcityfilmfest.com.