Interview: Guilty Simpson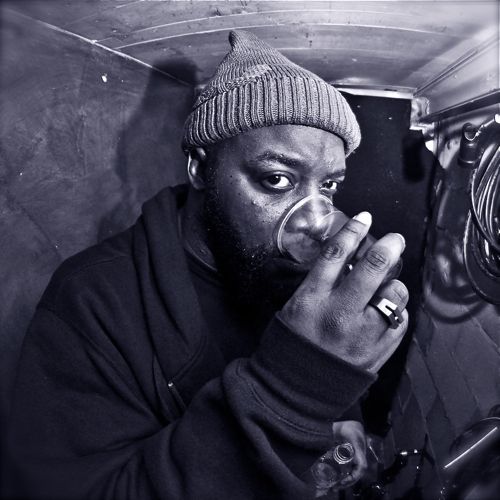 Detroit MC Guilty Simpson has been putting it down since the mid-90s for the city of Detroit and Michigan as a whole. Originating from the crew The Almighty Dreadnaughtz, Guilty has worked with some of most talented producers & MCs in the game, including J Dilla, Mr. Porter, Madlib, BlackMilk, Sean Price and Apollo Brown.
True to his underground roots, Guilty Simpson brings raw hip-hop to whatever stage he occupies. Read our Q&A with him and get ready for his live show at The Avenue on Saturday, April 8.
How would you describe your sound to someone unfamiliar with your music?
Non-commercial underground HipHop would be accurate. Raw lyrics over Raw beats. I try not to focus on the mainstream my music is more for the soul with a rough edge.
Who are some of your influences?
Kool G Rap, Rakim, Big Daddy Kane, Ice Cube Biggie, Tupac. Really any music that has the street commentary with it. I feel if an artist can put pros & cons to street life in their music is authentic. That's my separates commentary from glorification in my opinion.
What's the best advice you've ever been given as an artist?
"Know your worth"- J Dilla. That was the best piece of advice I could receive because we have to set boundaries in this field. Unlike a 9-5 we constantly negotiate our worth/value to each individual job, every day. Working 9-5 you basically know what you are getting every week. It made me understand that I should always handle my business 1st. Wear my business hats in these social environments because they can use me up if I let them.
What inspirations outside of music have an impact on your music?
Sports are a big thing for me. I love football, basketball, UFC, boxing, tennis, baseball and more. It's inspiring to me because it taught me as a kid to be a team player. I was my mothers only child so it taught me to share and bond with my peers. Also, my family & travel provide inspiration.
What are you working on currently / what's next for you?
I'm working on a solo album, and EP with MED from Oxnard Cali, and an international EP. All of those things are in production so I will be very active this year.
Event details: http://bit.ly/2nQbtps