CCFF at The Avenue
CCFF is back — and our concerts are, too. We're bringing you 6 incredible shows this year as a part of our festival! Join us for these shows using your CCFF all-access pass or pay just $5 at the door.
All shows this year are at The Avenue Cafe. Doors at 9pm, 21+. Come hang, grab a beer and some Ruckus Ramen, and listen to some absurdly talented (and fun) artists with us.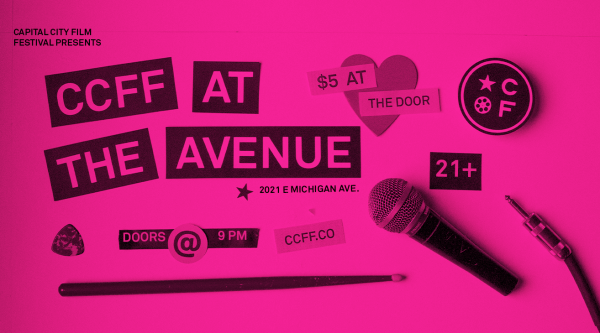 THURSDAY, APRIL 7
Chirp w/ special guest NWRH
FRIDAY, APRIL 8
AOTA Creative Takeover featuring Cutt Nice, Ozay Moore, Jahshua Smith, Sareem Poems, Y'z Council, James Gardin, Kwaj, Miles Young. Hosted by Joe Walker
SATURDAY, APRIL 9
Bonehawk w/ special guests BOA and Mr Denton On Doomsday
THURSDAY, APRIL 14
Lipstick Jodi w/ special guest Dirt Room
FRIDAY, APRIL 15
Mark Lavengood Band w/ special guest Jen Sygit
SATURDAY, APRIL 16
No Skull w/ special guest The Live Music
See you there!