CCFF 9.5 Film Schedule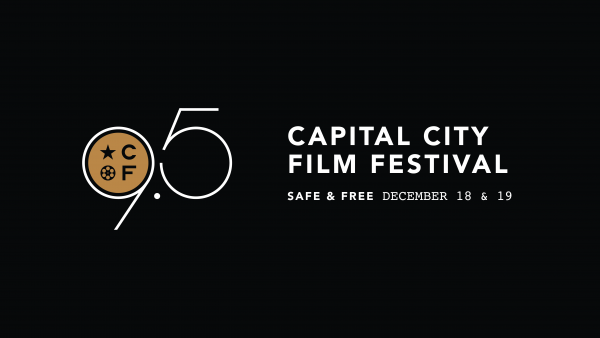 We're excited to finally share the film schedule just in time for CCFF 9.5! Consider this a selection of highlights from those carefully curated 100+ films we originally planned for the 2020 festival. We can't wait to share two nights of features and short films with you drive-in movie style in downtown Lansing on December 18 & 19—FREE and open to all.
PS! These films in general are of adult themes and adult language. While these drive-in films are outdoors, we do require a mask anytime you're moving outside of your vehicle. Please follow social distancing guidelines.
CCFF 9.5 DRIVE-IN/WALK-UP WEEKEND

Walk-Up (Friday only – Comerica Building)
101 N Washington Square, Lansing, MI 48933
Drive-in/Walk-Up (Friday & Saturday – between Knapp's Building & Cooley Temple Building)
231 S Capitol Ave, Lansing, MI 48933
Parking is free – Estimated capacity is 50 cars
Radio station will be available for audio (so you can keep the windows rolled up)
Exterior speakers will be available for walkers/attendees who bring chairs (& blankets!)
SCHEDULE
Friday, December 18 (2 locations)
5:30 PM –Projection mapping pre-show at Comerica Bank Building
6:00 PM – Projection mapping show TERRA FORMS at Comerica Bank Building (encores at 6:15, 6:30, 7:00, 7:30, 8:00, 8:30, 9:00)
6:30-8:30 PM – Short Film Block: Women of Character
9:00-11:00 PM – Feature: SOUVENIRS
Saturday, December 19 (1 location)
5:30-7:30 PM – Short Film Block: Comedy
8:00-10:00 PM – Feature: WHAT DOESN'T KILL US
10:30-12:30 PM – Short Film Block: Adult Animation
FEATURE FILMS
SOUVENIRS, a murderabilia shop clerk discovers her own family's dark history when she's asked to sell souvenirs from a crime not yet solved.
WHAT DOESN'T KILL US is a mockumentary about rehabilitated zombies (or necro-sapiens, to be politically correct) facing the adversities that come with living in a time when they aren't yet considered socially equal to homo-sapiens (aka, human beings).
SHORT FILM BLOCKS
Women of Character Shorts
Our favorite women characters that have won our minds throughout the eras! This block includes:
BORN STILL

MIRACLE BABY

HATSHEPSUT

JACK AND ANNA

THE TEA AT THE BOTTOM OF THE TEAPOT

ALINA
Comedy Shorts
A (sometimes dark) comedy explosion of all tastes and types! This block includes:
THE MEETING

TIGHT SPOT

URINATION COMPLICATION

ADVICE

AMITYVILLE WITCH ACTIVITY

NEW YEAR'S KISS

BUYERS REMORSE

BADNAPPING

AUTUMN'S BREEZE

NUCLEAR FAMILY

ROUND UP WINE

LOVE POTION NO. 5

THOUGHTS AND PRAYERS

LOST TREASURE OF THE VALLEY
Adult Animation Shorts
These are not animations for the faint of heart—only sturdy and lucid minds should embark on these shorts that range from the enlightened to the traumatic. This block includes:
WOOER

TOP DEATH

MALAKOUT

DESIRE ELEGY

NO MORE CHICKEN

TANGLE

THE QUIET

PANIC ATTACK!

THE WEDDING CAKE

DREAMLIKE

MIRROR

ACCEPT

HURT

HUMAN BOX

GOING ON STAGE