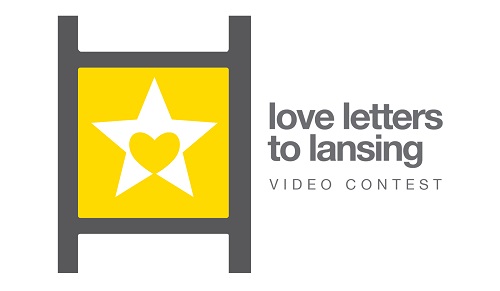 Love Letters to Lansing Video Contest

Contest Dates: January 28th until March 16th, 2015 at 12:00pm (noon)
Registration: Now closed
Fee: $10 per entry
Cash Prizes: $4,000 total (to be announced at the free celebration event on the evening of March 26; details to follow to registered participants)
Welcome to the competition that lets you combine your love for Lansing with your passion for visual storytelling – all for a chance to win some mad cash. 'Love Letters to Lansing' is where you can share all of the ways you live, work and play in the Greater Lansing area.
Some things to remember as you tell the world about your home:
– Your video must be no more than 3 minutes in length.
– The video you submit can be any type (documentary, narrative, experimental, etc.), any genre (comedy, drama, western, etc.); all is allowed showing the Greater Lansing region in a positive light.
– All music used must be royalty-free, licensed by participants, or an original work by participants.
– The video you submit must be received by 12:00pm (noon) on March 16th, 2015 digitally through Dropbox or dropped off physically at the Lansing Public Media Center (2500 S. Washington Ave. in Lansing, Mon.-Fri. from 9:00am to 5:00pm or by appointment).
– The Lansing Public Media Center, Greater Lansing Convention & Visitors Bureau and Capital City Film Festival reserve the right to distribute videos in all formats. Producers retain all other copyrights.
How do you #lovelansing?
Questions? Contact us at info@capitalcityfilmfest.com or 517.483.4058